Kay's baby, Joey, is 2 months old! For those of you who don't know, Kay gave birth to her third child, Joey, on September 10. He was born with Trisomy 18 and he is still in NICU, growing and getting stronger. Kay has been working from the hospital since Joey was born, so her responses may be a little slower.
For a quicker response, call one of our other Insurance Ninjas are in the office and keeping things going. In fact, Robyn, our IT Ninja, has started helping out at the office and answering the phone while Kay is on leave. We are still here for you!
The outpouring of love and support from our clients has been amazing! Kay loves hearing your messages of celebration and hope. Thank you for not only being our clients, but for walking with us on this journey.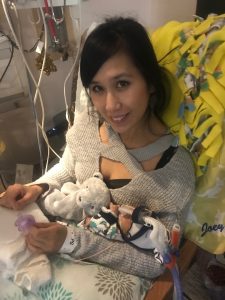 Here is a note from Kay:
With Joey's chromosomal disorder, comes birth defects. Joey has a hole in his heart and struggles to breathe independently. Even with these struggles, Joey has made large strides that have impressed all of us. This is especially true considering we were told that he may not be born alive and that if he was, we may just have minutes to spend with him.
Here we are two months later, and Joey is still showing his feisty personality and extreme cuteness. God has truly blessed us with a beautiful baby boy who constantly teaches us about finding joy in the journey every day. (Joey is actually named after "Joy.") God has also blessed us by surrounding us with a community of friends, family, and clients to support and love on us as we experience the joy of Joey together.
Joey has also taught me about the power of prayer, so I ask that you please remember Joey in your daily prayers. Pray for full functionality of his lungs, that he would be able to breathe on his own, and that the hole in his heart would close
"Be joyful in hope, patient in affliction, and faithful in prayer." Romans 12:12
I know God has big plans for Joey.
Thank you again for all the prayers, love, and support.
Click on the link below for a video of the first month of Joey's life.
#InsuranceNinja #Trisomy18 #BabyJoey